Hola! ¿Cómo está usted? Have you entered our Fall Giveaway yet? If not, check out the post right below this one. :)
Today we were going to do swimsuit photos, but then we realized that we still haven't moved over all of those pictures from the laptop. Only some of them. Duh. We are slow. But we do have pictures of Karen and Emily in fall attire. Remember the post about the
black and white Doll Closet shirts
? Well this is like a 2.0 version of that post.
Karen and Emily are wearing the same jeans and tops, but they have added on two hoodies for the cooler weather we had here at the beginning of last week. Karen is wearing a swirly graphic hoodie handmade by Terri of
All Dolled Up Doll Clothing
. And Emily is wearing an awesome skull graphic hoodie handmade by Heritage4 of
Heritage Doll Fashions
.
Here are zee hoodie pictures!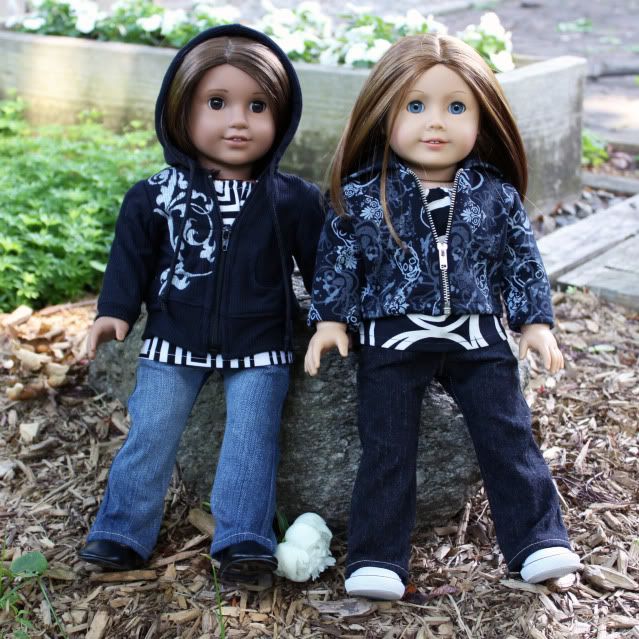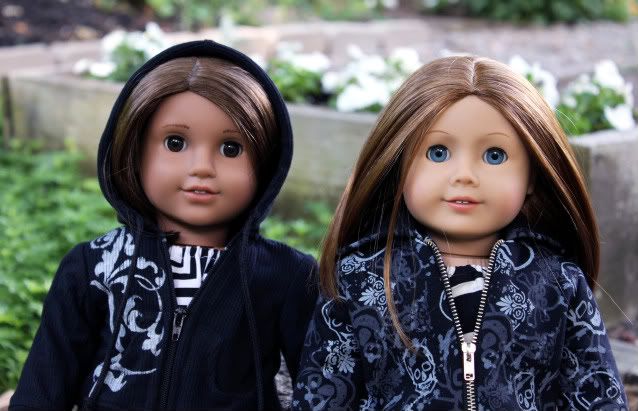 Both Heritage4 and Terri have joined the Liberty Jane Clothing team. Heritage4 is creating patterns, and Terri has become a LJC Premium Partner. As a LJC partner, or Premium Partner (depending on what you want to be)--- you have permission to use the LJC patterns to create doll clothing to sell for a profit. Your profit! Isn't that exciting?!?! We talked about this program a little in some previous comment discussion- but we wanted to bring it to light in a post. Here is the LJC lingo:
"
Have you been trying to figure out how to make some extra money?
We are modifying our pattern's commercial use policy to benefit work-from-home seamstresses in an exciting new way. If you've been looking for an opportunity to make some additional income, you might like this...
Become A Partner:
Previously if you wanted to use our patterns for selling, we had a royalty payment required that was cost prohibitive for many people. We are doing away with that completely. From now on, if you want to use

Liberty

Jane

Patterns for selling through your Ebay, Etsy store, or other websites, then we are 100% supportive. And you can keep 100% of the profit. Since our patterns currently have clear language prohibiting you from using them in this way, (and I don't want to edit all my patterns), simply email me if you're interested. We will give you official permission to use our patterns for work-from-home sewing. You'll be an official partner. My email is
cinnamon@libertyjaneclothing.com
.

All we ask for in return is that you let people know that you used a

Liberty

Jane

Pattern in your item description and you clarify that it is not an original

Liberty

Jane

outfit garment.

But wait, there's more...Want to become a Premium Partner?
Become A Premium Partner:
We are setting up a Premium Partners website for $9.99 a month. Benefits will include,
Selling tips and recommendations, like our 10 tips for branding your business, as well as 'how-to' posts explaining pretty much everything we do. From pricing to photography equipment, and scissors to internet tools. We'll share everything.

A discussion forum where we will answer any questions you have about our patterns, selling strategies, marketing questions, anything you need help with, we'll do our best to provide support.

Priority access to patterns. As we move forward we'll begin to give you early bird access to our patterns before we release them on our patterns website. We're still working this out, but it will probably be something like 3 months exclusive use before they are released to everyone else.

Traffic! we have a huge set of frustrated fans that are waiting to get one of our designs, and we're happy to refer them to you, with a direct link from our site to yours. Again, you can keep 100% of the profits. We are remodeling our

www.libertyjaneclothing.com

website and the new design will allow us to prominently feature your store, website, or listing. You'll be featured as a "Premium Partner".

Additionally, we'll use our social media tools, (like Facebook), to drive traffic to your site.

A free pattern download every month.
If you're interested, email me back and say, "Yes, I want to partner". As soon as we are ready to launch, (within a week or so), We'll send you further details.
Whether you decide to become a partner or premium partner, our vision is pretty simple... Just like we have partnered with top designers to expand the selection of great patterns, we also want to work with top seamstresses to expand the selection of our designs that are available to shoppers.