Hola! And Sup! Maple here.
So you probably thought we were going to forget about the September Trends to Sew, didn't you??? Well, we didn't -- this time. Heehee.
Warning: LONG post, lots of pics and blathering.
Selena Gomez is in the media a lot lately -- Hotel Transylvania, a new Wizards of Waverley Place special is planned, she appears on magazine covers, in music videos, and her new Fall pieces for her Dream Out Loud Collection at Kmart are splashed all over her Youtube channel.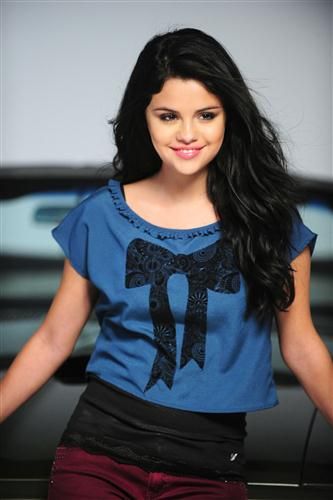 "Look at my awesome shirt!
You know you want it."
"Oh geez, I really do...."
"I'll lean on this car and wait for you to run to Kmart and buy it."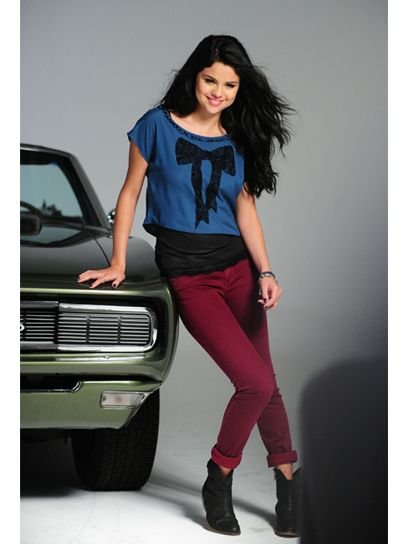 Love the color scheme of the above outfit, the details of the blue shirt, and the layering effect.
Not to mention the awesome booties.
The DOL line has existed since 2010: a trendy, affordable clothing collection that also includes accessories like bags, scarves, hats, headbands, jewelry, belts, and much more.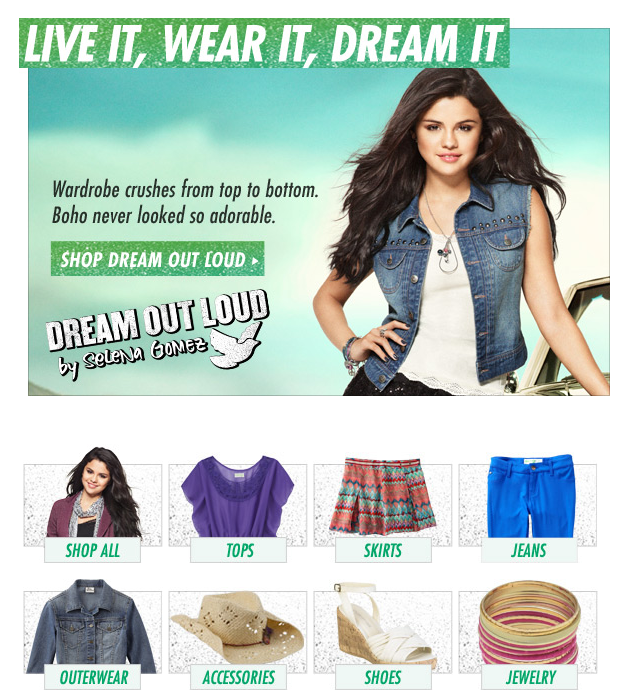 We wanted to do a Wizards "Disney Channel Fashion" post or two. But then we discovered the show ended in January. Geez, when did that happen?
Oh well, the Dream Out Loud stuff is pretty cool and pics are easily found.
Plus, many pieces do translate well to doll-scale.
And honestly, the pieces are affordable enough for seamstresses to buy and cut up to reconstruct (in our opinion).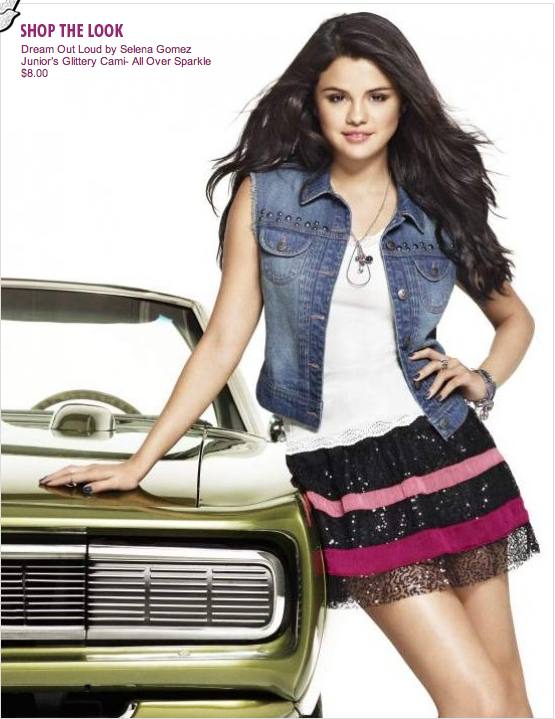 "Check out how sassy I am."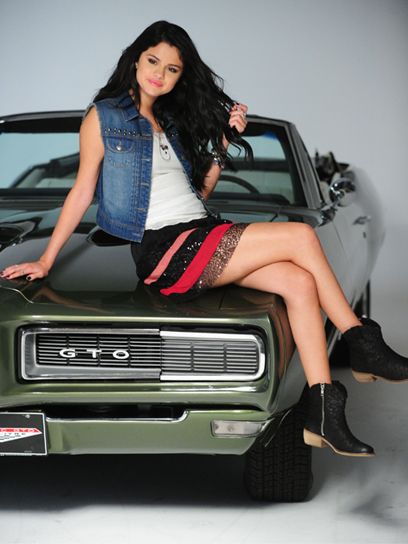 Hot trends seen above:
Denim studded vest, sequined skirt with ribbon accents,
lace-trimmed tank top, Western booties.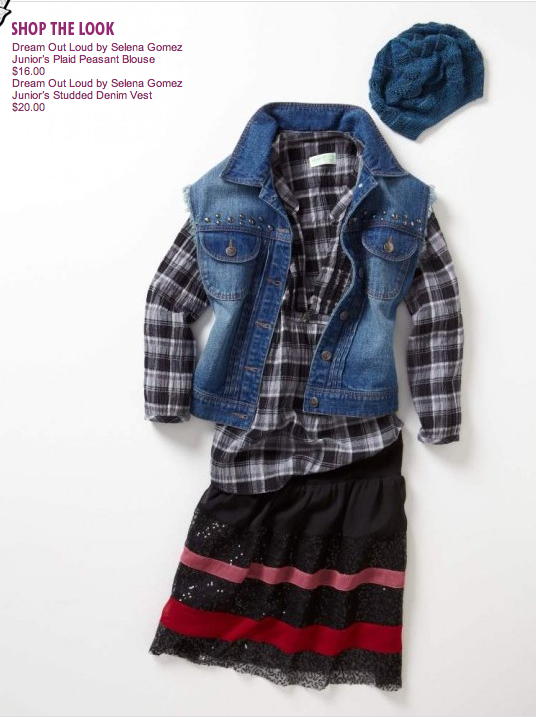 Below you see a 3/4 length sleeve mesh cardigan, lace accented tank, and a plaid skirt with a ruffle and contrast trim.
The skirt is offered in several diffy plaids.
The cardi color options are black, grey, and purple.
The tank comes in 7 colors and 3 stripe options.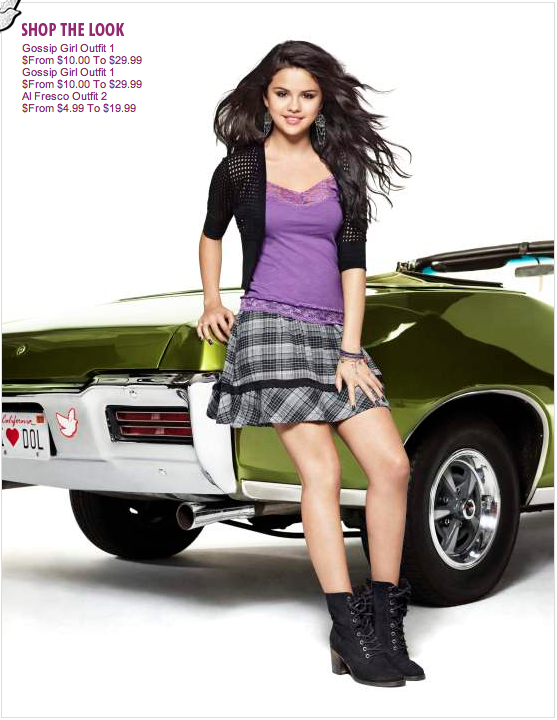 "I like touching my hair. Who wouldn't? It's gorge-us."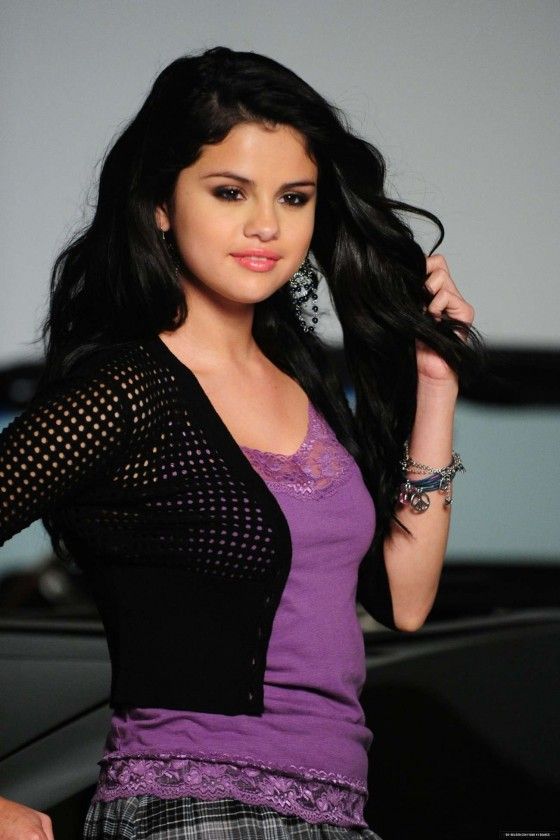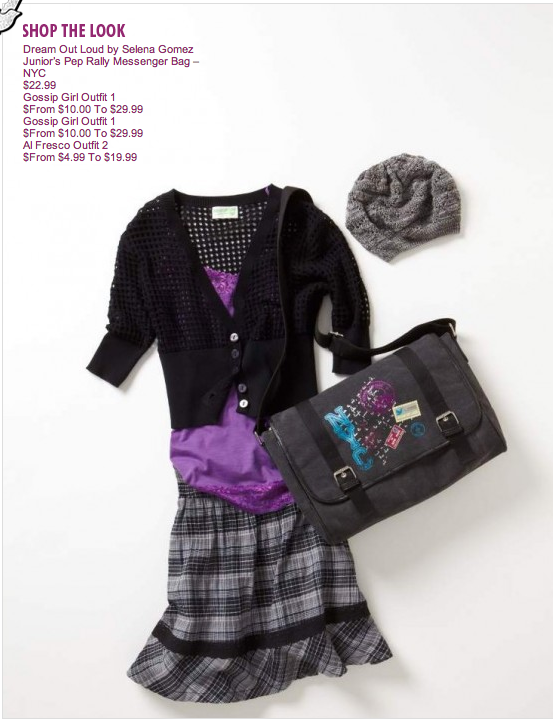 Up next: Sequined scarf for the win. All of the DOL scarf options are pretty fly.
Thin blazer with scrunchable sleeves -- 3 color options available.
The top looks like she just pulled up the earlier skirt, but it is actually a tank top. This is available in two colors. The top section is solid fabric and then at the bottom of the ribcage you see alternating strips of sequined fabric/lace and solid color silky ribbon.
And of course slim jeggings and leggings are still in fashion.
DOL offers a lot of options for leggings -- corduroy, sweater, yoga-esque style, colored jeggings, etc. And of course the colored skinny jeans are around as well.
"I am waiting for you take my picture. Ya done yet?
I haven't touched my hair in five minutes and I need to do it soon."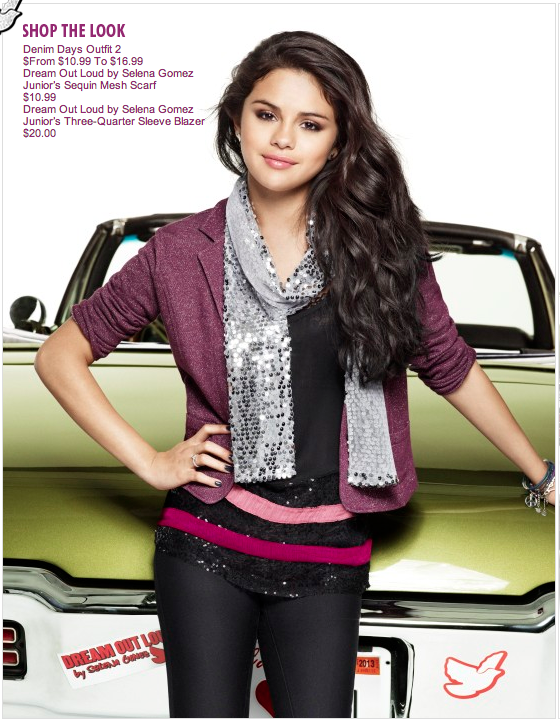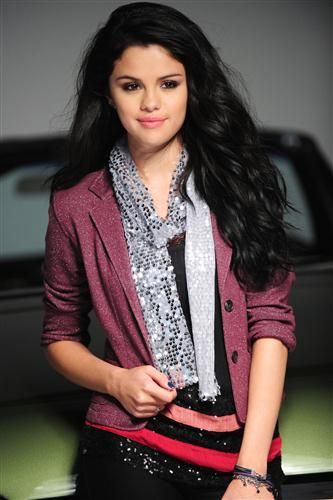 Also paired with the cardi....
A beautiful plaid dress. Love the buttons.
Also available in a red and yellow "chili pepper" plaid.
As you can tell from this shot below......the dress is a little short.
More like a tunic shirt for those of us with butts.
On the dolls just craft a dress/skirt to fall above the knee for modesty. It will still look trendy and cute. Feel free to pair your skirts and dresses with leggings -- layers are in and they help keep doll booty covered up. ;-)
"This car seat is kinda cold on my butt."
She definitely looks like a casual rock star.
Dolman sleeve drapey jersey top with subtle graphic.
Striped lace accented tank.
And black denim jeggings/skinny jeans.
The necklace is purty as well and helps add a level of polish.
"Let us walk majestically down this fake road.
With empty luggage."
More outfit options from their Fall LookBook.
Other new items from the DOL line for inspiration.
Skirts.
While the dolls don't always look good in tight mini skirts (you can sometimes see where their leg sockets are), you can execute thicker minis and flared minis well.
Given their scale, again, I would have the skirt fall above their knee.
These are just four of the skirts in this style, there are many more available.
Shirts.
A dolman sleeve/varsity-esque casual top with lace accents.
We thought the whole design of this was quite clever and appealing.
Dolman sleeve hoodie. Love the color.
Burnout graphic tee.
For those of you looking for colorful burnout fabrics, these might be a good option to reconstruct doll clothing from. The DOL line has these tees in several colors.
This drapey, layered shirt comes in several color options, centered on black as the core color.
This preppie-ish striped sweater is offered in six stripey colors.
As you probably caught on -- black, white, grey, purple, aqua, teal, coral, and red are hot colors this season. And we like how the stripes are subtly contrasted, with two tones of the same color.
Sweatshirty options. Raw edge necklines. Bold, fun graphics.
Selena Gomez's Dream Out Loud Collection at Kmart has a ton more offerings.
LIKE a TON.
More tops, skirts, shorts, pants, jackets and accessories than we could ever discuss.
Enough inspiration for a year worth of doll clothing creativity.
Perhaps we will revisit the DOL collection, examining some of the accessories because they are so much fun, or even the Winter line, if they release one.
p.s. The summer clothes are on sale now on the website -- so they are even more affordable!
$3.99 for a tank top!
$5.99 for a cold shoulder top!
Weeee!