Sup?! It's Saturday! Which means tomorrow is the last day to enter our Summer 2010 Doll Giveaway! *Hint. *Hint.
Heehee. Today we show you the new AG Charm Necklace that comes with the MyAG dolls and the charms that come with two of the outfits. Some of your comments were asking about the necklace and the Innerstar U Campus Kit. Since we got three MyAG dolls, we got three of each of those things. But we only signed up as Jocelyn. So on Innerstar U we are Jocelyn3, if you are wondering. We will do another post about the Innerstar U virtual world soon. ;)
So the necklace is kind of weird.... but eh, AG has made weirder things, so we'll roll with it. Here is an initial picture of the "Charm Keeper" necklace in its packaging: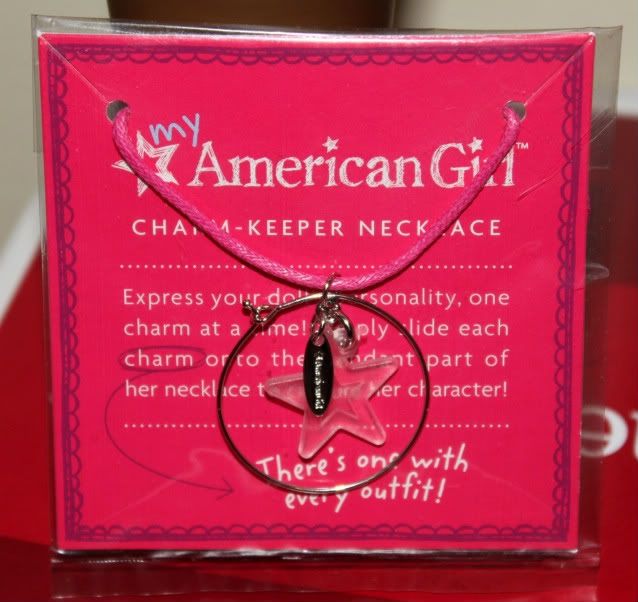 As you can see, it has an adjustable pink cord with a "silver" ring that hangs from it. Then in the center of the ring hangs a plastic star and a "silver" tag that says American Girl on it. When you put the charms on the ring, they hang down below it, which you can see in these pictures of Angelina modeling the necklace....
It is kind of a bizarre design with two tiers of charms, and it is rather large on a doll, considering scale. But I understand why it is all so big-- little girl fingers couldn't really work with something too small. Anyway, overall we think it makes more sense to maybe restring the necklace and make it for humans. That might be a cool idea if you have more than one of these necklaces.
So the charms.... the circular charm with the flower motif is the "Confident" charm that comes with the InnerstarU outfit (hoodie and sweats). The heart-shaped charm with the starburst on it is the "Smart" charm that comes with the Pretty and Plaid outfit.
Here you can see the charms and their packaging....
Currently, there are 35 MyAG outfits that come with charms, and there are 36 different charms. But not all charms have been released into the wild yet. There are four main shapes: circle, bar, heart, and square. And there are nine "keywords" that are matched up with the little design you see in the center of the charm, like the flower or the starburst. You can see some of this information on the charm packaging itself.
If you want to see a complete guide to the charms, go to AG Playthings and check out their frequently asked questions. If you are a member of AGPT, you can also participate in their "charm swap" if you have charms to trade.