Hi there! This is where we are going to occasionally post about stuff that may be interesting to you, but doesn't have much to do with American Girl Dolls. Chances are that these Non-AG posts will be about dolls, fashion, photography, and costumes.... so hopefully our Doll Wardrobe readers will still find them useful. :)
We begin this new page with our first three Mattel Monster High dolls: Frankie Stein, Clawdeen Wolf, and Lagoona Blue--- all currently (as of July 9th, 2010) available in the
Mattel online store
. (Search for "monster" in their store and you will eventually find them.) Here you can see the three dolls still in their boxes.....
Each doll comes with a stand, hairbrush, pet, purse and diary.
We have divided the rest of the photos into slideshows below. There are a lot of photos--- we were kind of excited to get these dolls. They are pretty good as far as a mini-collection: not too expensive, fun extensive marketing (including a website and animated videos), ball-jointed for pose-ability, and a unique theme. How many other monster fashion dolls do you have at home? ;)
First Frankie Stein in and out of her box:
Second Clawdeen Wolf in and out of her box: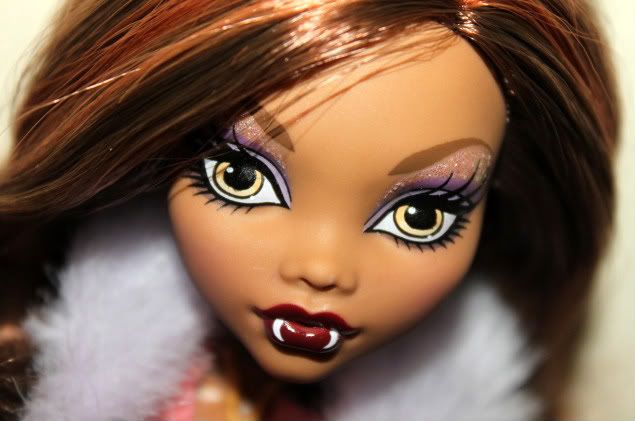 And third Lagoona Blue....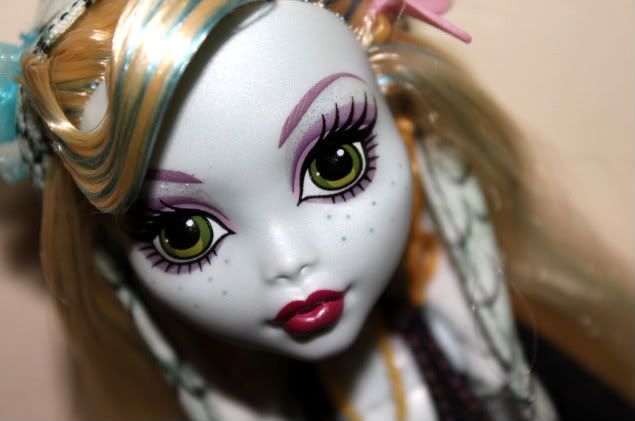 There are currently six other dolls available in the Monster High doll line besides these three.... hopefully they will make their way to Badger's Wood eventually and we can post about them here! If you have any questions about the Monster High dolls and overall theme, please feel free to comment below. :)
UPDATE: Aha! Back with some more dolls!
Here is a shot of all the dolls we have now-- from left to right: Dawn of the Dance Cleo, normal Cleo, Deuce Gorgon, Dawn of the Dance Clawdeen, normal Clawdeen, Dawn of the Dance Frankie, normal Frankie, Draculaura, and Lagoona.
And a slideshow..... including images of the dance invites and photos that come with the Dawn of the Dance dolls.
A lot of these new dolls don't have perfect face paint and have this shiny goo on their faces from the hair stiffener they put on most of the dolls' hair. Which they really shouldn't do. It's next to impossible to brush it out and I still can't figure out how to get it off of their faces. Draculaura has the worst case of face goo. :-( And Deuce Gorgon has a whole side of his face kind of "skinned"-- like something abrasive scratched across his poor face. So we only show him from his good side.
Anyway... they are still cool dolls but I would highly recommend buying them in person and checking for extra shiny faces, face paint issues, and abrasions. These were bought online. Our previous three dolls did not have face issues, so we thought we were good to go. Le sigh.
So now more specific images and slideshows.... Dawn of the Dance Cleo...
Normal Cleo...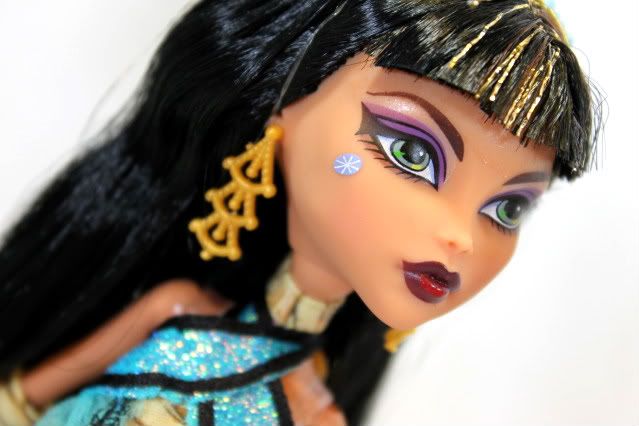 Deuce Gorgon...
Dawn of the Dance Clawdeen...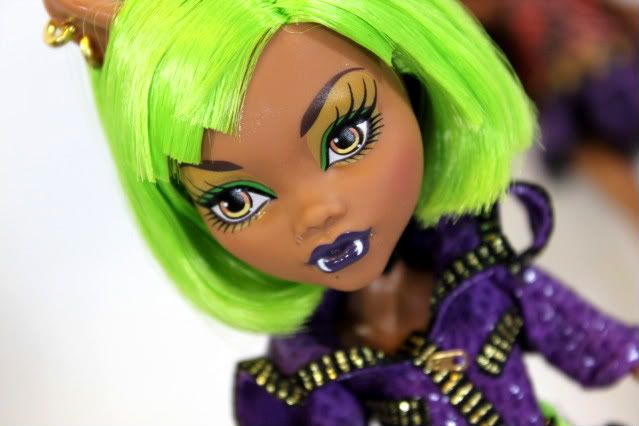 Dawn of the Dance Frankie...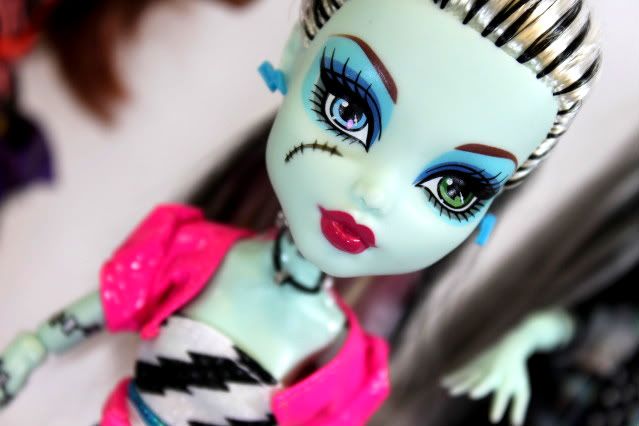 And... Draculaura...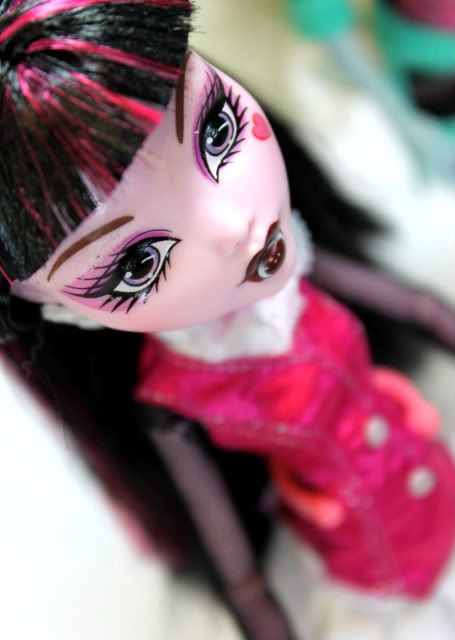 If anyone has suggestions on how to get the hair stiffener off of the dolls' faces-- we would love to get your advice. Also if you have any questions about the dolls please feel free to comment below and we will try to answer them.
UPDATE:
Four of our newer dolls in their own Youtube Musical Slideshow! -- Spectra Vondergeist, Holt Hyde, Ghoulia Yelps, and Jackson Jekyll! (October 2011)

Thanks for reading and looking at our pics!!