Hola! Well now that I can take a break from doing historical research (check out yesterday's post for the final Colonial Week update).... I might be able to get some more posts out before Halloween. (Maybe... we sure hope so... we took a lot of pics for this week...)
Today we have Sun Ji and Ivy arriving early at our annual Halloween party. They have brought some tasty treats and decorated baggies to share with everyone. Sun Ji is our new MyAG #4, as you probably remember.... and Ivy is one of the dolls being offered in the Fall 2010 Doll Giveaway here at The Doll Wardrobe.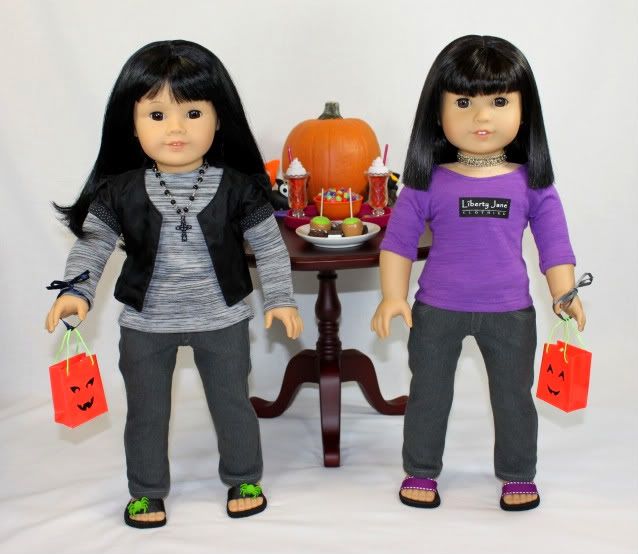 This is the Ivy doll that is offered in the giveaway, not our Ramona. We wanted to make sure everyone got a chance to see the giveaway Ivy again. She is wearing the jeans and shirt, custom-made by
Liberty Jane Clothing
, for the giveaway. Thanks for donating these items Cinnamon!!!
Ivy, MyAG #41, or Kirsten (depending on who the winner chooses) will come with this purple top and these grey jeans. Cinnamon chose a beautiful bold fabric for the shirt (it is awesome!!!) and added on the LJC logo.
Meanwhile Sun Ji is wearing our duplicate pair of grey jeans, and the top, jacket and necklace from "Shinjuku Starlet"-- one of the Spring/Summer outfits from Liberty Jane. We own all eight outfits now... but we have only shown you the first four here on the blog. We are very slow.... but you guys already knew that. ;-)
And p.s.--- Sun Ji and Ivy's sandals are handmade by
Etsy seller BetsyStyle
. Betsy currently has 15 different pairs of sandals available in her store right now, including Halloween and Christmas-themed pairs. They are really affordable and she will put straps on the back of them to help keep them on your dolls' feet if you want. Her shop also offers a lot of very pretty dresses. Betsy is a super-cool seller and we highly recommend buying from her!
So FYI... the new Fall/Winter Liberty Jane Clothing line will start to appear as Ebay auctions next week, probably after Halloween. And their Fall-o-ween Youtube and Facebook design contest is currently happening. That ends on October 31st. If you don't get the Liberty Jane newsletter, we recommend you sign up for it. It tells you about their outfits, contests, patterns, and clothing available from their partners.
Since we showed you the giveaway outfit in this post we should probably say----The Doll Wardrobe Fall 2010 Doll Giveaway ends on Sunday, December 5th-- that is the last day to enter. And the winner will be announced on December 6th.
Please click here to read more about the giveaway and to enter.
Remember, only those 18 years old or older can enter the giveaway, so if you are younger than that please have a parent or guardian enter for you.
And a big thank you goes out to everyone who has entered so far--
we hope you like the giveaway outfit!!!
Stay tuned for more photos of our annual Halloween party!