Yo! Qué pasa? Bienvenido a Domingo!

Well Saturday was a busy day for the Melody Valerie Etsy shop with their new "Voyages" Fall 2010 Line. Melinda actually made six of each dress this time around instead of just four of each dress--- so she had more to sell. But almost everything is gone despite the increase in availability! How exciting for Melody Valerie!
There is one type of dress left, the
Literary Travels
dress:
Clicky here to go to the shop.
As of me writing this post, there are three of them left (I believe). This beautiful purple dress reminds us of a Edwardian day dress (like Samantha Parkington might wear) that has been punched up a notch into the modern era. The lettered embroidery and ribbons remind us of accents we see on Anthropologie dresses and skirts. Definitely a very creative piece.
Here is what it looks like: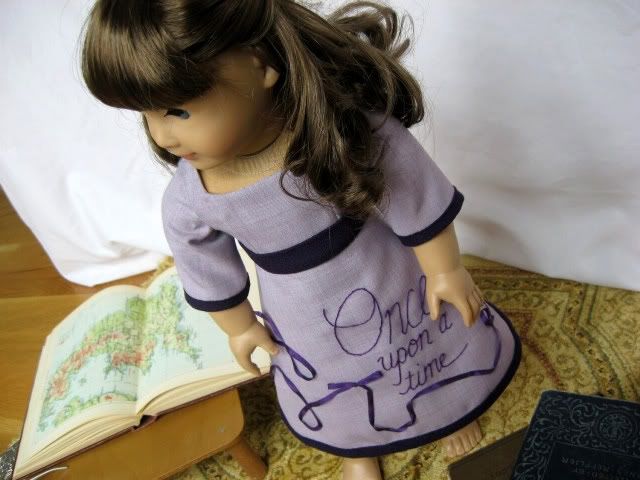 And here is what the other three dresses (which are already sold out) look like:
Let's Take the Train
Which way to the dining car? This dress reminds us of Agatha Christie's "Murder on the Orient Express" with Hercule Poirot-- and all the smart-looking plaid and tweed jacket and skirt combos the female characters might wear as their travel attire, with fantastic 1920s hairstyles and hats. Very enchanting!

(Pictures by MVC)

We got one of each type for us girls in Badger's Wood because a) MVC dresses are totally awesome and b) we like to be able to showcase all the dresses on this blog to promote MVC. So we will be attempting to make another Youtube video for this line.
If you guys have certain dolls that you'd like to see in certain dresses, please let us know in the comments below!