Haha. Do you like my title? So we have a lot of housekeeping to do today. No fun doll pictures. But lots of info for everyone. :-)
1) We added new tabs to the top of the blog under the header to help you find our Youtube Channel, our Facebook Page, our current photo contest info, and Maple's Story Blog. Hopefully those are helpful.
2) If you haven't subscribed to our Facebook page or our Youtube Channel yet, please do! Also, if you have a Youtube or Facebook page you'd like to tell us about, please comment below so others can know about it too. :-)
3) Pippaloo's and All Dolled Up's Facebook pages are seeking more "Likes" -- so please check those pages out and "Like" them. We think its a great idea to have a Facebook page if you have your own doll clothing or accessory shop -- maybe you should think of starting one if you are a shopkeeper. :-)
4) On our Facebook page we do a lot of "shout-outs" to items being sold on Etsy and Ebay. If you are a shopkeeper and want us to do "shout-outs" for your products please let us know. You can comment below or email us at nora.demington@gmail.com. We do it for free, just to advertise things we like.
5) Our two recent polls have ended and we took them off the blog today. Here are the results....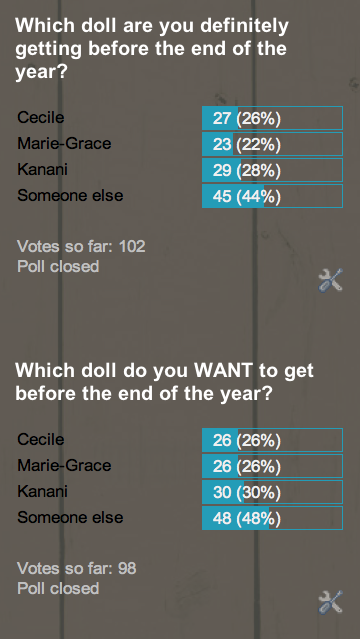 Kanani still has a bit of an edge over Marie-Grace and Cecile in popularity.... but obviously a lot of people are interested in other dolls than those three! Perhaps the MyAG #55 that everyone likes or one of the other new MyAG's? Hmmmm......
We thought these polls would give us an idea of which doll to include in the next giveaway... but it is still a mystery since the three main girls basically tied in popularity... which leads to....
6) Our Photo Contest winner choose Kanani and she is currently being packaged up to be sent off to her new owner. :-) So now we have MyAG #26 and Ivy left with us for the next giveaway. We have started a new poll to determine who will be the third doll... it lists Kanani, Cecile, Marie-Grace and MyAG #55 as the possibilities. So if you'd like to see one of those dolls included in the Fall/Winter 2011 Doll Giveaway -- please vote today!
This poll closes in a week -- so act fast!!!!