Numberonekitty! Numberonekitty! Numberonekitty!
It seems like the type of name we should say as a cheer....
So....
Numberonekitty!
Welcome to the American Girl Fans Message Board Member Special Feature Introduction to
Numberonekitty
. As explained by Caroline,
"Numberonekitty
would love to sew for other people, but she hasn't yet settled on which serger she wants to purchase. She will be in touch with us on this so we can get the word out when she's ready to open for business." (We'll let you know if we hear anything more on this!)
Numberonekitty
creates AG-sized food and lots and lots of very pretty doll clothing. So we thought that we'd show a little of both in each of our posts on her. All the photos which you see in this post are the property of
Numberonekitty
.
We begin with her crisp white apron that is being modeled by Addy.
Her pattern for the apron was modified from Samantha's pinafore.
Addy is such a beautiful doll! She is on the
Badger's Wood dolly wish list and
Numberonekitty
's pictures
remind us that we should get her soon. :)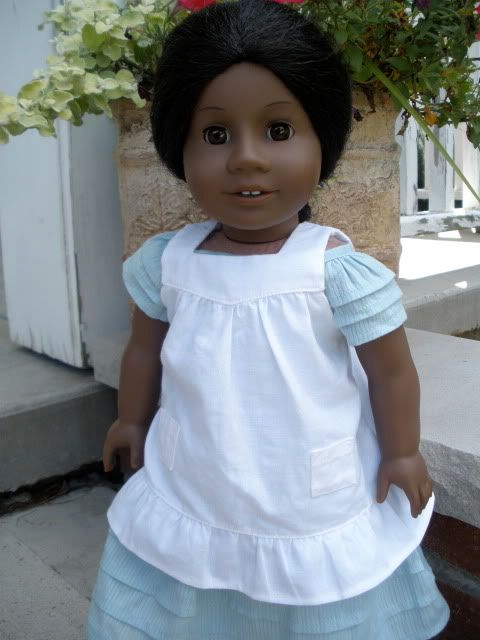 For a modern outfit we wanted to show you
Numberonekitty
's
Nicki doll wearing one of her handmade tops.
She explains to us that "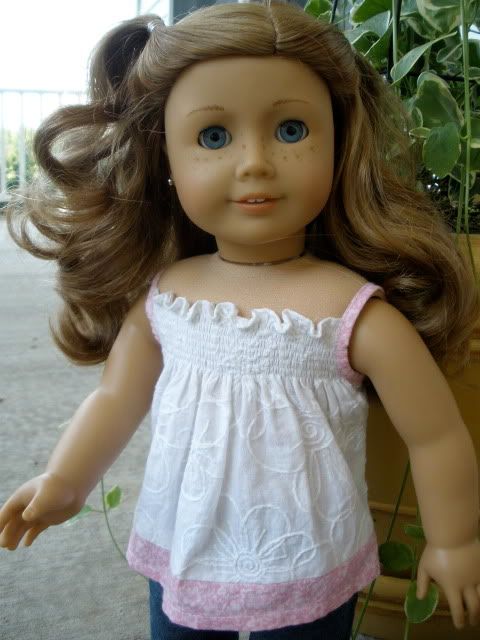 And last but not least we have some really awesome carrots
handcrafted by
Numberonekitty
! I am kind of getting hungry
just looking at this picture....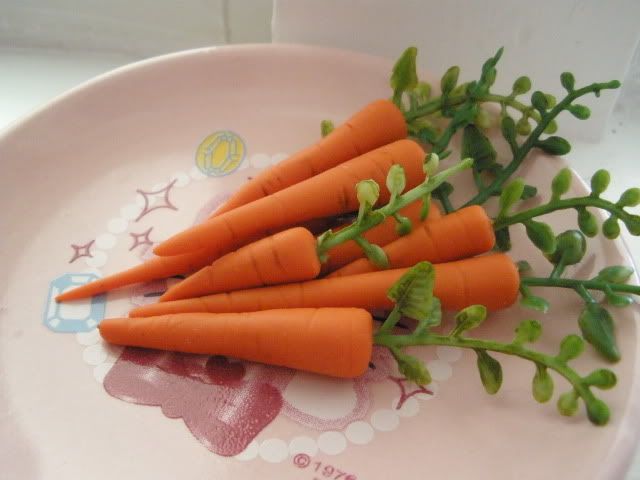 Thank you
Numberonekitty
for allowing us to showcase your
handmade AG-sized clothing and food.
They are truly wonderful!
Stay tuned for more
Wednesday
posts featuring the outfits and crafts of
Numberonekitty
in the future. For our AGFMB Member Special Feature next Wednesday we are going to sneak in a special surprise for you which only one other person knows about..... ooooo, I love secrets!
And this coming
Friday
we will begin our

Oktoberfest Costume Extravaganza
!
What is this Oktoberfest thingy of which I speak? Well in order to celebrate the season of costumes and our Elephant Costume Giveaway, we thought we'd show you a costume every Friday in the month of October. We will skip October 23rd because that whole week we will be in Walt Disney World. But on October 2nd, 9th, 16th, and 30th we'll show you some of our costumes that we have squirreled away here in Badger's Wood- all new and never before seen on this blog!
Goodbye September-
Hello October!